Software Development Coding for FileMaker Pro Database Solutions
Data for Everyone in your Business; Desktop, Home or Mobile.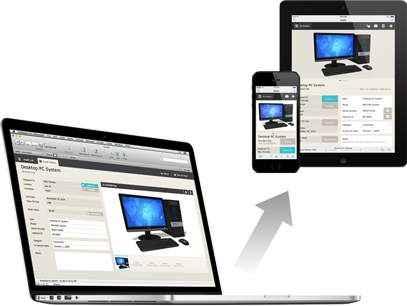 FileMaker Pro Databases
For 20 years we have been creating systems using FileMaker Pro.
Our FileMaker Clients require the recording and tracking of their Sales, Accounts and Service Departments.
This is for their Office but also for Home Workers and Mobile Users on iPhone, iPad or Tablets.
Recently we have been helping Microsoft Windows users move to FileMaker on Mac and Windows PC from their ageing Microsoft Access Databases.
After the initial Development we continue to Modify and Adapt our clients systems to match their companies growth.
Contact us by Phone , Email or FaceBook.
FileMaker Pro Data Management
We program Single User and Multi-User FileMaker Pro Server solutions, running on Desktops or from a Mac or PC Server running FileMaker Pro Server.
The annual licensing from FileMaker makes it even easier to get started.
FileMaker Pro Brand
The excellent Graphics ability built into FileMaker Pro means your Company Brand and Identity can be easily carried over into the  database interface, the Forms, PDF's, Emails and Communications.
FileMaker Pro CLOUD & Access
When it comes to location, distance is not an issue.
Our unique networking setup provides you with apple mac IT computer systems support to a national base: Leeds, London, Hull, Sheffield, Manchester, Birmingham, Newcastle, Glasgow;  In fact, UK wide.
This means that you Staff also have access to your company data via. FileMaker Pro from each of your Offices, from Home working locations and when they are on the Road.
FileMaker Pro Support
When JRP designs and develops your FileMaker Pro Database Solution it is usually integrated with your JRP I.T. Support Service Contact . The users Desktops, the companies Servers, your CLOUD systems for file sharing are all backed up as part of a Recovery Plan including our Remote Desktop Support.