We provide Mac and PC IT support to businesses throughout the UK and we've been doing it for over 20 years.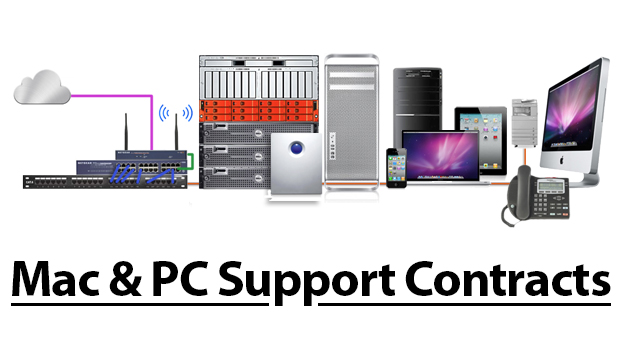 Are you:
Fed up of niggly IT issues taking up valuable time for you and your staff?
Putting off important IT tasks because you don't have the time to do them?
Unsure if your security, backup and disaster recovery plans are adequate?
Well don't worry, you are not alone.
When you've got a business to run your time is valuable. Wouldn't it be great if you could pass all of your IT responsibilities over to an IT expert, leaving you to get on with your day job? Well thanks to JRP you can.
About Us
We help businesses run more efficiently, more securely and more successfully by improving and supporting their IT systems.
We work with all types of businesses large and small from graphic designers to universities and architects to recruitment agencies. And whether they use Macs or PCs, all of our contract customers benefit from having a dedicated IT expert on hand, without the associated cost of employing one in-house.
We specialise in providing first-rate IT support and ensure that your systems are running smoothly and securely so that you can get on with building your business safe in the knowledge that computer problems are not going to hold you back.
We are reliable, friendly and won't baffle you with techno-babble. We are also fast, professional and cost-effective. But don't just take our word for it, read our Customer Testimonials to see what others have to say.
Our Apple Mac and Windows PC services include:
Office systems administration for both Mac and Windows
Email and Web Services set up and management
FTP services (so that you can easily and securely share files across the Internet)
Networking (we'll network your systems for maximum efficiency)
Security reviews and ongoing improvements (including firewalls and virus protection)
Backups and Disaster recovery
Disaster prevention
Ongoing support (help and advice whenever you need it)
Regular onsite and offsite backups
Data Server and File Sharing
Hardware and Software installation (we can help you choose and install the best hardware and software for your business)
Internet and Broadband services
Our customers benefit from:
Telephone hotline
24/7 365 days a year Email support
1 hour emergency response
When it comes to location, distance is not an issue. Our unique networking setup provides you Mac and PC IT support anywhere across the UK including: Leeds, London, Hull, Sheffield, Manchester, Birmingham, Newcastle and Glasgow.
Contact us today for a chat about how a JRP support contract could save you time and money.