Mac Support and PC IT support to businesses throughout the UK for over 20 years.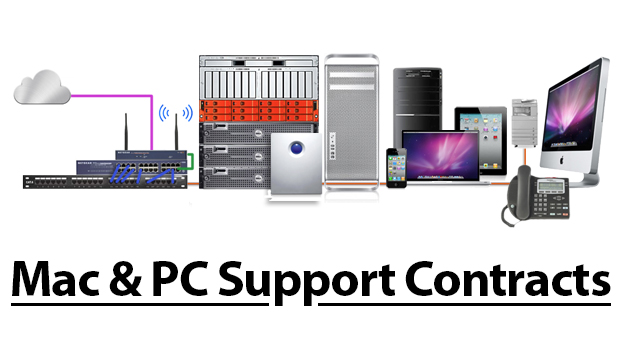 Our Service
With over twenty-five years' experience of working with Apple computers, we are experts at understanding your technical and professional needs. We make every request a top priority to ensure that your Mac plays its key role in your business goals.
JRP Systems will specify, configure and install Mac computer systems to match your needs and then support those systems – computers, Mac and PC desktops, printers and servers – on a day-to-day basis.
Our engineers and system administrators are highly experienced in working with systems and software. Our breadth of resources can deliver opportunities for your success too, ranging from Apple OS X to Adobe, Epson, HP and other 3rd party software and hardware vendors.
Using our remote desktop support we can diagnose and fix issues extremely quickly and ensure your business keeps running.
We support UK businesses and can work with partners worldwide to integrate your systems through sharing files, by email, chat or video communication. As a result, your business can be flexible and competitive with your competitors.
Our support covers Mac Pro, iMac, Power Mac, MacBook Pro and MacBook Air, so that your workforce can benefit from having the right equipment for the right purpose.
Should you have any questions at all please do not hesitate to contact us here at JRP MAC PC IT Systems.
Our Commitment
We help businesses run more efficiently, more securely and more successfully. How do we do this? By improving and supporting your IT systems, using the right hardware or software to match both the job and your requirements.
We work with all types of businesses – from graphic designers to universities, architects to recruitment agencies.
All of our contract customers benefit from having a dedicated IT expert on hand and without the associated cost of employing one in-house.
We provide first-rate Mac support and ensure that your systems are running smoothly and securely.
You can now build your business while feeling safe in the knowledge that computer problems are not going to hold you back.
Clients find us reliable, friendly and we won't baffle you with techno-babble.
Don't just take our word for it, read our Customer Testimonials to see what others have to say.
Our Apple Mac Support and Windows PC services
Office systems administration for both Mac and Windows
Email and Web Services set up and management
FTP services to easily and securely share files across the Internet)
Networking (we'll network your systems for maximum efficiency)
Security reviews and ongoing improvements (including firewalls and virus protection)
Backups and Disaster recovery
Disaster prevention
Hourly support for technical, purchasing or development needs
Regular onsite and offsite backups
Data Server and File Sharing
Hardware and Software installation (we can help you choose and install the best hardware and software for your business)
Internet and Broadband services
Our customers benefit from:
Telephone hotline
24/7 365 days a year Email support
1 hour emergency response
Mac PC Support in any Location.
Our unique networking setup provides you Mac Support and PC IT support anywhere across the UK including: Leeds, London, Hull, Sheffield, Manchester, Birmingham, Newcastle and Glasgow.
Contact us today for a chat about how a JRP support contract could save you time and money.
Call us on 0113 266 5146 or email info@jrpsupport.co.uk
---